Dreamlike relaxation paradise (from the age of 16 | infants up to 3 years included are free)
The PALM OASIS and its Blue Lagoon are surrounded by uncountable palm trees and orchids: a rest-haven at the heart of the Black Forest. Tank up new power and energy in five Mineral Pools and in the steam bath "Black Forest Mist".
Opening hours
With regard to the pandemic caused by the coronavirus, the guest business, in consultation with the authorities, will probably cease from March 16, 2020 until further notice. Thank you for your understanding.
Access from 16 years, children up to 3 years incl
Closed today
Closed tomorrow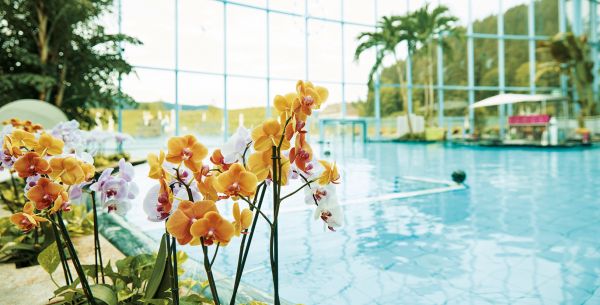 Daily programme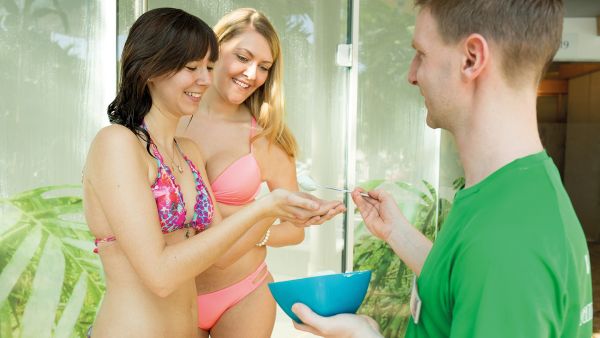 Joghurt cream
An actual wellness & beauty kick. Creamy yoghurt is applied to the face and nourishes the sensitive skin for a silky feeling.
Daily programme
"Feel it"
Discover the true power of minerals. The combination of lithium-salts with water creates magical warmth.
Daily programme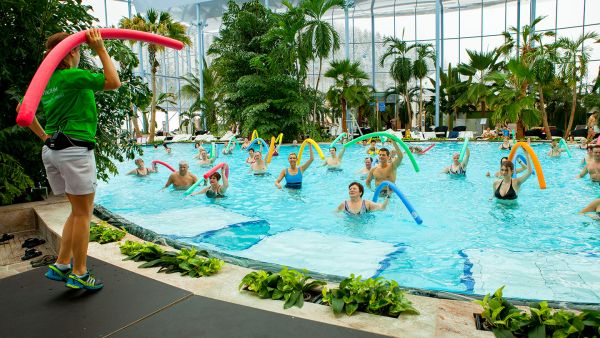 Aqua-Fitness
The daily Aqua-Fitness-programme will keep you fit and fresh. Water sport is intensive but saves your joints at the same time. A perfect healthy break.
Daily programme
Packages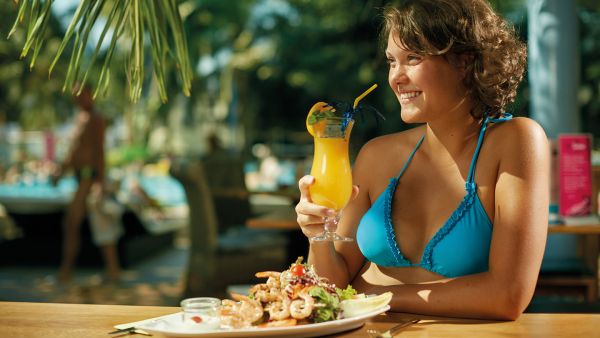 A day in paradise
A whole day to enjoy a perfect timeout with the best equipment. Cuddly rental towel, relaxing music and a delicious menu topped with a cocktail!
Book now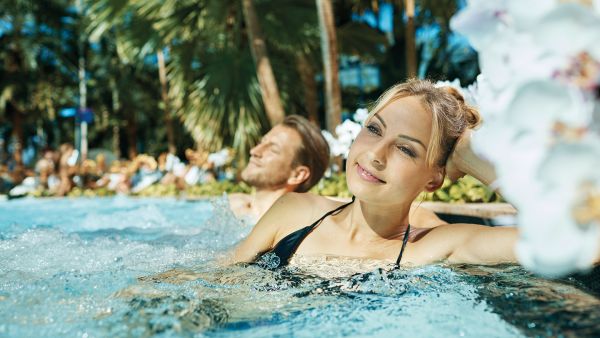 "Morning Relax in Paradise"
The best way to start your day. Palm trees, water and a delicious breakfast with hot coffee or tea.
Book now
"About the relaxation paradise"
Dive in turquoise water and enjoy a green palm trees ocean. The PALM OASIS is a limitless relaxation paradise and proposes quality moments of rest. Enjoy fruity cocktails at the pool-bar and the soft massage of numerous water jet lounges. In the outside pool, a breathtaking view over the Black Forest skyline and the great natural lake awaits you. A place to get rid of the troubles of your daily routine, and to let your holiday dreams come true.
Tank up new energy and regenerate in the wonderful "mineral-pools" of the WELLS OF HEALTH. The most essential minerals of the world provide unimagined power to the body and are a real balm for the soul. Pure wellness also awaits you in the steam bath "Black Forest Mist" with its beneficial steam and a selection of free beauty treatments.