Galactic relaxation
Relaxation has to be part of your adventurous day. On numerous loungers and in comfortable calm-oasis, tank up new energy for the next slide-marathon. The steam bath invites to little breaks and family-wellness times.
On 880-m² wellness area, come and feel good together in the areas GALAXY RELAX and GALAXY GARDEN.
The GALAXY RELAX proposes soft loungers and comfortable alcoves. In the GALAXY GARDEN, wood-cabanas will offer and extraordinary relaxation time.. In big hammocks, enjoy the free view over the sky, while the little pirates go to sea aboard the playgound-boat "MsGalaxy".
Please note: The GALAXY RELAX is open only on crowded days.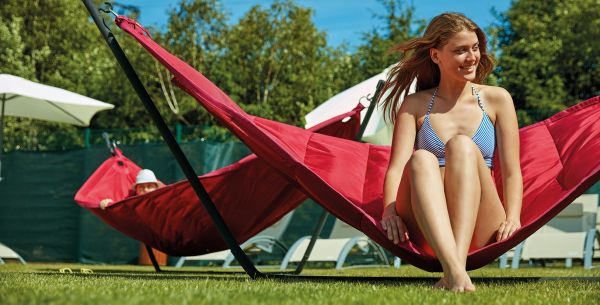 Opening hours
With regard to the pandemic caused by the corona virus, the guest business, in consultation with the authorities, will close from March 15, 2020 from 10:00 p.m. until probably mid April until further notice. Thank you for your understanding.
No age limit
Closed today
Closed tomorrow