Indoor & outdoor pool-bar
Cocktails in extraordinary atmosphere. Enjoy ice-cold drinks in 33° warm water, either in the middle of a tropical palm tree ocean or outside with fresh Black Forests air.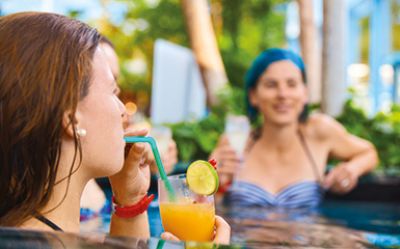 The perfect cocktail for cold evenings. Besides the warm water, our "Prince" provides some extra heat.. An exotic combination of creamy and fruity tastes with a shot of tequila.
Ingredients:
• 3 cl Tequila
• 3 cl Liqueur 43
• 12 cl passion fruit juice
• 1 dash of coconut syrup
• 5 cl cream
Preparation:
The preparation is really easy and will surely be a success. Fill the cocktail shaker to the half with ice cubes. Pour all other ingredients over them, and mix the whole for about 20 seconds. Serve and enjoy!
Events
Lounge Night
On 04. May 2019
A unique musical fusion: a DJ combined with classical music - you have to listen to that!
More on this subject
Street Art
On 01. June 2019
Streetart - the development of art in a urban environment. Genuine, creative and marvellous at the same time.
More on this subject