FAQs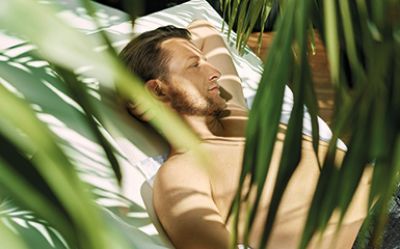 For the first time in the BADEPARADIES SCHWARZWALD?
For a relaxed stay under the palm trees, you will find here some tips for your visit.
Good equipment: Do not forget to take enough bathing towels with you - especially for sauna session, these should be big enough. If you come spontaneously or if your bag is too small, you can rent towels and bathrobes for a small fee and by leaving a deposit. Also take with you all cosmetic products necessary for the shower and afer. We also advise you to bring clean bathing shoes or flip-flops.
Arrive & feel well: At check-in, every visitor from 4 years receives a practical chip-wristband. With this, you can open and close you locker. The chip-wristband also allows cashless paying in the whole complex. Catering-services, massages, solarium as well as passovers to other areas will be recorded on the round chip of your locker key. You can then pay for those services with cash or credit card at the exit.
Simple & practical: Your chip-wristband will lead you directly to your personal locker. The bracelets are colour-coded to match the locker rooms. The areas red, blue and orange are the locker rooms of the GALAXY. The locker rooms for the PALM OASIS are marked in yellow and green. The locker rooms of the PALAIS VITAL have a black colour-code. The colour of the key-wristband matches the corresponding locker room area. The key number corresponds to the locker room number.
Secure your valuables: For jewels and big amounts of money, our safety-lockers are at your disposal in the lobby (deposit 1 EUR). Please always wear the key on your wrist to avoid any kind of inconvenience. Loss will only cost nerves, time and 45 EUR! Please keep your admission receipt and remember your locker number in case of loss.