Thermengruppe Josef Wund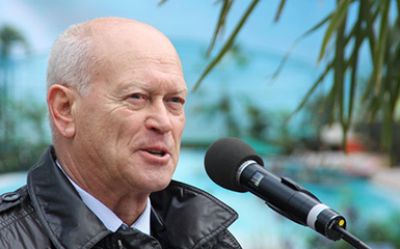 The BADEPARADIES SCHWARZWALD is a holiday-paradise belonging to the Thermengruppe Josef Wund, which is considered as the leading operator of thermal baths and bathing facilities in Germany. With half a century of experience as architecture and planning office for leisure facilities, hotel complexes and baths, the architects set new standards in the spa and bathing landscape with every new project.
The holiday destinations enthral several million visitors every year and arouse worldwide interest. The realized visions of the extraordinary architect Josef Wund are solely privately financed and operated facilities. With innovating ideas for the conception, he did set up trademarks, like the giant retractable glass roofs. Pleasantly warm water, genuine Caribbean palm trees and first-class service make long holiday flights unnecessary. In 2010, the BADEPARADIES SCHWARZWALD opened its doors as the third facility of the Thermengruppe Josef Wund.
On the 14th December 2017, at the age of 79 years, Josef Wund died tragically in an aircraft accident. The whole business group mourns the loss of its visionary.