Dreamlike relaxation paradise (from the age of 16 | infants up to 3 years included are free)
The PALM OASIS and its Blue Lagoon are surrounded by uncountable palm trees and orchids: a rest-haven at the heart of the Black Forest. Tank up new power and energy in five Mineral Pools and in the steam bath "Black Forest Mist".
Here we go again!
From 26th June, relaxation will be the keyword in our rest paradise PALM OASIS! For our rest-seekers, we have been intensively preparing for a reopening, with a fixed aim: offer you an unforgettable journey.
The admission in our PALM OASIS will be possible only with pre-booked date-specific online-tickets including lounger/bedding! You just have to visit our online-shop and place your reservation there.
Opening hours
The Badeparadies Schwarzwald reopens from the 26th June. The admission is possible only with online-ticket. All information concerning the reopening is available here.
Access from 16 years, children up to 3 years incl
Open today
Day: 09:00 - 15:00 o'lock
Evening: 16:00 - 22:00 o'clock
Open tomorrow
Day: 09:00 - 15:00 o'lock
Evening: 16:00 - 22:00 o'clock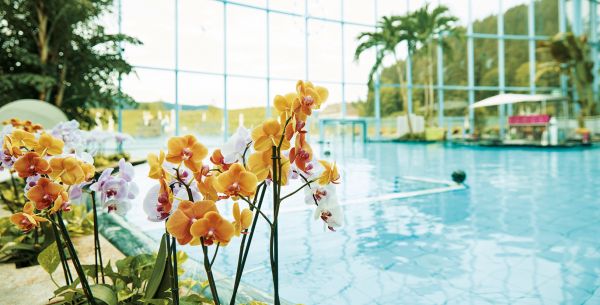 "About the relaxation paradise"
Dive in turquoise water and enjoy a green palm trees ocean. The PALM OASIS is a limitless relaxation paradise and proposes quality moments of rest. Enjoy fruity cocktails at the pool-bar and the soft massage of numerous water jet lounges. In the outside pool, a breathtaking view over the Black Forest skyline and the great natural lake awaits you. A place to get rid of the troubles of your daily routine, and to let your holiday dreams come true.
Tank up new energy and regenerate in the wonderful "mineral-pools" of the WELLS OF HEALTH. The most essential minerals of the world provide unimagined power to the body and are a real balm for the soul.