Back to overview Reservation PALAIS VITAL Weekend
Information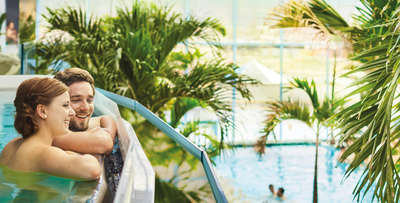 Guaranteed access to the Badeparadies Schwarzwald
With our reservation service, ensure your admission to the Badeparadies Schwarzwald on a fixed day.
The reservation includes a day ticket for the selected area
- GALAXY SCHWARZWALD
- PALM OASIS, free passover to the GALAXY SCHWARZWALD
- PALAIS VITAL incl. world of saunas, free passover to the PALM OASIS and in the GALAXY SCHWARZWALD
Reservation fee: extra charge of 5 €
With a reservation (only available in combination with the purchase of a day ticket for the respective area, incl. € 5 reservation fee) you will obtain following exclusive services:
Guaranteed access even if the complex is sold out (WARNING: does not include the reservation of a lounger)
You can check-in on the reservation day until 03:00 pm - no waiting at the cash desk
Your transponder-key can be obtained directly at the information office
Book and pay at home
You see immediately if reservations are available for the chosen day
Please note:
Daily max. 50 reservations available for each area (GALAXY SCHWARZWALD, PALM OASIS or PALAIS VITAL)
If you cannot use your voucher on the day of the reservation, it remain valid for 3 years, but the access CANNOT be guaranteed anymore
Age limitation remain valid in the framework of reservation, in consequence the access to the PALM OASIS and PALAIS VITAL is not allowed under 16 years
We reserve the right to change your reservation price, if the reservation hasn't been done properly
Difference will not be refunded
The regular opening times apply
Reductions / Specials / Hochschwarzwald Card cannot be credited or charged
IMPORTANT:
The reservation offer is an additional service and is not necessary to access to the BADEPARADIES SCHWARZWALD!
Here you will find all information concerning shipping
Here you will find the information concerning
delivery times
.