Hospitality nearby your "paradise"
Extend your wellness stay with one of our partner hotels, and enjoy the typical cordiality and hospitality of the Black Forest.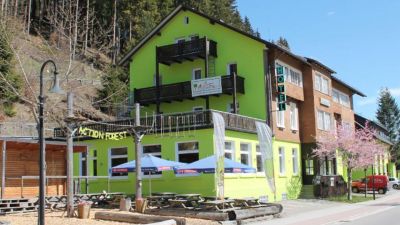 Action Forest Hotel
The Action Forest Hotel proposes many possibilities for an active & relaxing holiday in the Black Forest.
Prices from 27.00 € - 60.00 € per person with breakfast.

Neustädterstraße 41, 79822 Titisee-Neustadt - Germany.
Phone: +49 (0)7651/ 82560
E-mail: hotel@action-forest.de
www.action-forest-hotel.de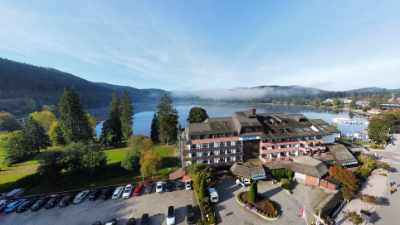 Maritim TitiseeHotel
Overlooking the crystal waters of Lake Titisee, the idyllic shoreline hotel with lakeside meadow und sunbathing area is a successful mix of elegance and the ambience typical oft he Black Forest.

Seestraße 16, 79822 Titisee
+49 (0) 7651 808-604
info.tis@maritim.de
www.maritim.com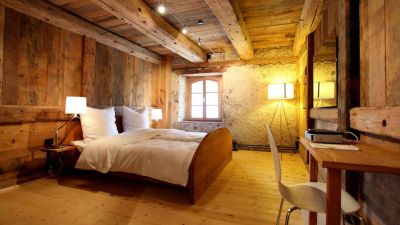 Hotel Rainhof Scheune
Tradition & modernity. At hotel Rainhof Scheune, enjoy a relaxed stay and discover inspiring themed worlds, combined with the unique story of a listed building.

Höllentalstr. 96, 79199 Kirchzarten Burg-Birkenhof
Tel.:+49 (0)7661/9886110
E-Mail: info@rainhof-hotel.de
www.rainhof-hotel.de/en/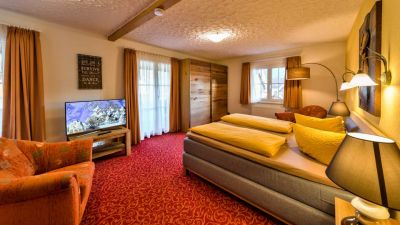 Hotel Sonneneck
Situated in a dreamy location just besides the Titisee Lake, the BADEPARADIES SCHWARZWALD and numerous shops. In the heart of the town, beautiful rooms, and a varied offer witha restaurant, a café and a bar await you.

Parkstraße 2, 79822 Titisee-Neustadt
Tel.: +49 (0)7651/8246
Tel.: hotel@sonneneck-titisee.de
www.hotel-sonneneck-titisee.de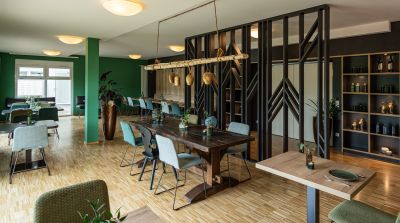 Nature Titisee - EASY • LIFE • HOTEL
Are you looking for something stylish, but also cosy, somehow among friends and very close to nature? Then you have just found a place! A place from which you can explore the woods and the lake, meet new friends or simply relax.
Alemannenhofweg 1-5
79856 Hinterzarten
Tel. 07652 9118-118
www.nature-titisee.de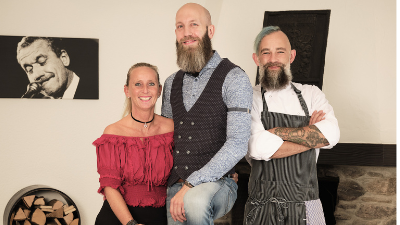 Parkhotel Waldeck
Simply good - simply delicious! Family-run hotel without frills.
Individually furnished rooms, modern regional & American cuisine, hotel bar apart, outdoor terraces,
fantastic breakfast, pool & sauna.
Tel.: +49 (0)7651/8090
E-Mail: info@parkhotel-waldeck.de
www.parkhotel-waldeck.de/en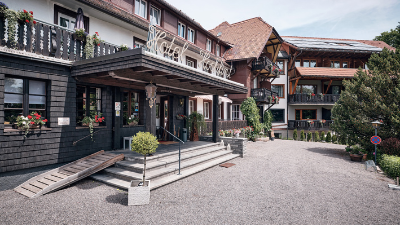 Hotel Hochfirst
10 minutes from "Paradise" in quiet Saig.
The family-run hotel with sun terrace, beer garden and restaurant.
Arrangements with shuttle service for couples and families to the bathing paradise.
Tel.: +49 (0)7653/751
E-Mail: info@hotel-hochfirst.de
https://www.hotel-hochfirst.de/en/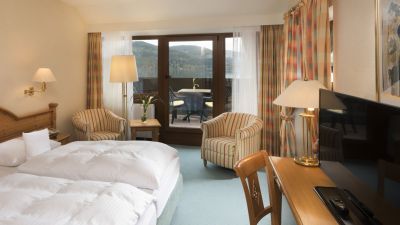 Hotel Coucou
Urban Soul meets Black Forest: The 45 rooms give a fresh interpretation of the Black Forest with a subtle mix of tradition and modernity. Enjoy the restaurant with local products, an organic breakfast, the rooftop terrace with boulder-wall, and the wellness oasis.

Parkstr. 11, 79822 Titisee
Tel. 07651 80 799 80
www.coucou-hotel.de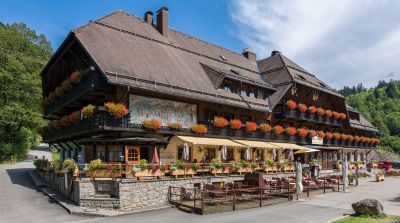 Hotel Hofgut Sternen
The four-star hotel on the romantic Ravenna Gorge has been a place of hospitality for centuries. As a sustainable destination, all energy requirements are generated CO2-neutrally from our own renewable sources.
Höllsteig 76, 79874 Breitnau
Tel. 07652 9010
www.hofgut-sternen.de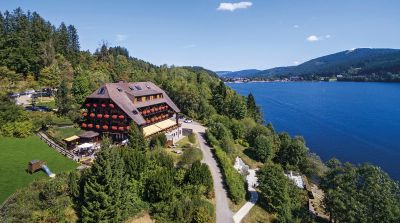 Boutique-Hotel Alemannenhof
On the western shore of Lake Titi, the charming Black Forest House sits loftily above the gentle waves. All around is the legendary Black Forest. Your exclusive retreat, where Alemannic charm and cordiality have always been a tradition.
Bruderhalde 21, 79856 Hinterzarten am Titisee
Tel. 07652 9118-0
www.hotel-alemannenhof.de